Quilt Show & Vendor Hall Hours
Thursday, Friday, and Saturday:
10:00 AM-6:00 PM EST
Sunday:
10:00 AM-4:00 PM EST
February 23 – 26, 2023
QuiltCon is the largest modern quilting event of its kind! Presented by the Modern Quilt Guild, QuiltCon features a juried quilt show with twelve judged categories, special quilt exhibits, a carefully curated vendor hall catering to the modern quilter, and four days full of workshops and lectures. Don't miss it!
All QuiltCon 2023 events will take place in person at the Atlanta Convention Center at AmericasMart.
Coming for the day? Get a day pass through our registration system or at the door the day you arrive. 
QuiltCon Quilt Show, Workshops, and Vendor Hall:
Atlanta Convention Center at AmericasMart
240 Peachtree Street NW
Atlanta, GA 30303
The Atlanta Convention Center at AmericasMart is located in the heart of downtown Atlanta. With unlimited dining options within walking distance, the Atlanta Convention Center allows attendees to experience the best of Atlanta all at their fingertips. The Atlanta Convention Center at AmericasMart is also directly linked to the Hartsfield-Jackson International Airport, via the MARTA public transportation system.
QuiltCon Lecture Hall:
Westin Peachtree Downtown Atlanta
210 Peachtree St NW, Atlanta, GA 30303
This year our lecture hall will be in The Westin Peachtree directly across the road from The Convention Center at AmericasMart. The Peachtree ballroom is about a 10-minute walk from the main exhibit hall so please plan accordingly.  You can complete this walk either by walking outside or using the overhead walkways connecting AmericasMart to The Westin.
Hotels & Lodging
Special rates have been negotiated for a limited number of hotel rooms for QuiltCon conference attendees at the Westin Peachtree Atlanta, which is attached to the Atlanta Convention Center!
Book your room here.
Parking
We recommend booking convenient and affordable parking in advance through Spot Hero. You can book online or through their app, which is available for Android and iOS devices. You can also view city parking options here.
Public Transportation
Atlanta boasts the second-highest-rated public transportation system in North America. The Metropolitan Atlanta Rapid Transit Authority, MARTA, offers rapid rail service directly from Hartsfield International Airport to the Peachtree Center Rail Station, directly across from the Atlanta Convention Center.
Scooter Rental
Do you need a motorized scooter or other mobility device while you are at QuiltCon? The MQG has partnered with Mobility Georgia to provide these helpful items to our attendees.
To see what they have available, you can view their website right here: Rentals (mobilitygeorgia.com)
To reserve your mobility device in advance, contact Mobility Georgia directly at 470.357.6130 or via email at support@mobilitygeorgia.com
Land Acknowledgement
QuiltCon acknowledges that our event will be held on the ancestral homelands stolen from Indigenous peoples, including the Muscogee people, their descendants who live currently, and future generations to come. We acknowledge the sovereignty of the Muscogee Nation, the fourth largest tribe in the U.S., and seek to honor the Muscogee Nation and other Indigenous caretakers of this land. We also acknowledge the sustained oppression, land dispossession, and involuntary removals of the Muscogee peoples.
QuiltCon is dedicated to protecting and honoring the history of these people and places.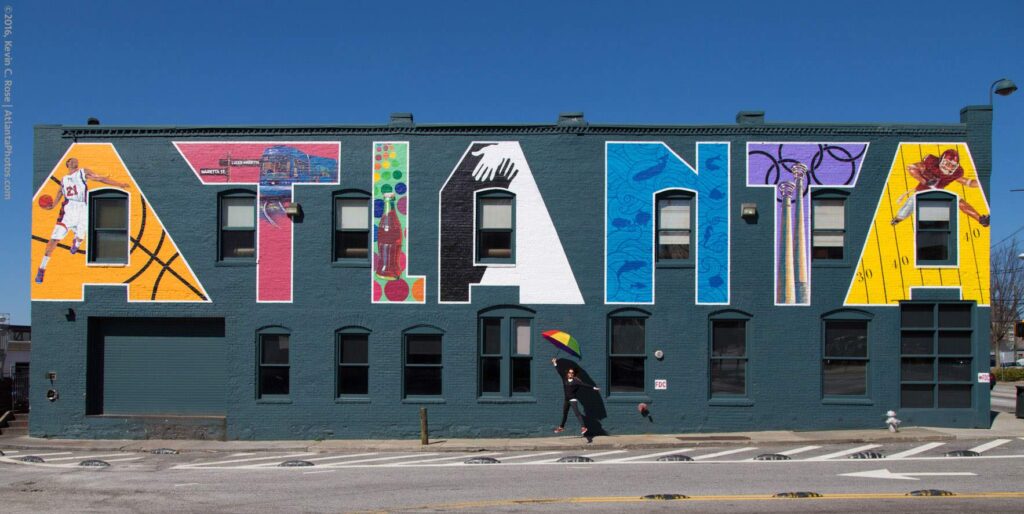 About Atlanta
Atlanta welcomes more than 1 million international visitors each year. Seventy-one countries have representation in Atlanta through a consulate or trade office, giving it a diverse economy. From arts and culture to music and cuisine, the city is full of multi-cultural opportunities for everyone.
Atlanta sits at the intersection of Southern charm, creativity, and sophistication. It is easy to fall in love with this beautiful city – its world-class attractions, award-winning dining, and hidden wonders – and be inspired by the city's endless possibilities.
Atlanta's arts and culture scenes are some of the most vibrant in the U.S. The Woodruff Arts Center, the country's third-largest arts campus, comprises the High Museum of Art, the Alliance Theater, and the Atlanta Symphony Orchestra, draws more than one million visitors annually. Atlanta's arts scene spreads well beyond the city's world-class venues as a new wave of visual art installations and street murals have rolled in, adorning parks, walls, tunnels, and walkways with color and jumpstarting Atlanta's independent artist's scene. The city's roots also dig deep into its cultural past with historic events including Civil War battles, the birth of the civil rights movement, and the Centennial Olympic Games.
Fast Facts
Atlanta boasts more than 50 visual art galleries and more than 30 playhouses and theaters.
The metro Atlanta region has more than 1,700 cultural non-profit organizations, generating more than half a billion dollars in economic activity.
Atlanta's Midtown neighborhood features the largest concentration of arts facilities and organizations in the Southeast, with 25 different arts and cultural venues, more than 30 permanent performing arts groups, and 22 various entertainment facilities.
Atlanta's residing symphony, the Atlanta Symphony Orchestra, has won 17 Grammys, more than any other U.S. symphony.
Atlanta has two Smithsonian affiliates: Georgia Aquarium and David J. Sencer CDC Museum.