Community Outreach Quilt Challenge
One of the MQG's largest-scale charity projects is back and better than ever! This year, we are pleased to announce that guilds will have the opportunity to sell their Community Outreach quilts during QuiltCon to raise funds for Women of Color Quilters Network and the Navajo Quilt Project! Our goal is to make it easier than ever for participating groups to fundraise for nonprofit organizations with this challenge. Make sure to check out all the details below.
Theme: Angles
Angles come in all shapes and sizes, with varying degrees. While some are more pointed you can also find others that almost seem to flatten out.
You'll find right angles in most quilts, so the challenge this year is to feature angles that are not 90º in your quilt. Acute or obtuse, let the angles be the focus of the quilt, instead of simply the place where blocks meet.
Get inspired by a few examples from previous QuiltCon shows, and start planning with your group!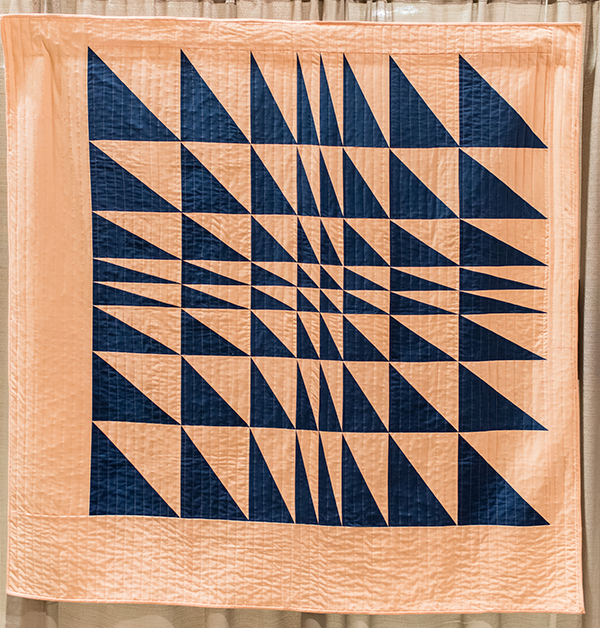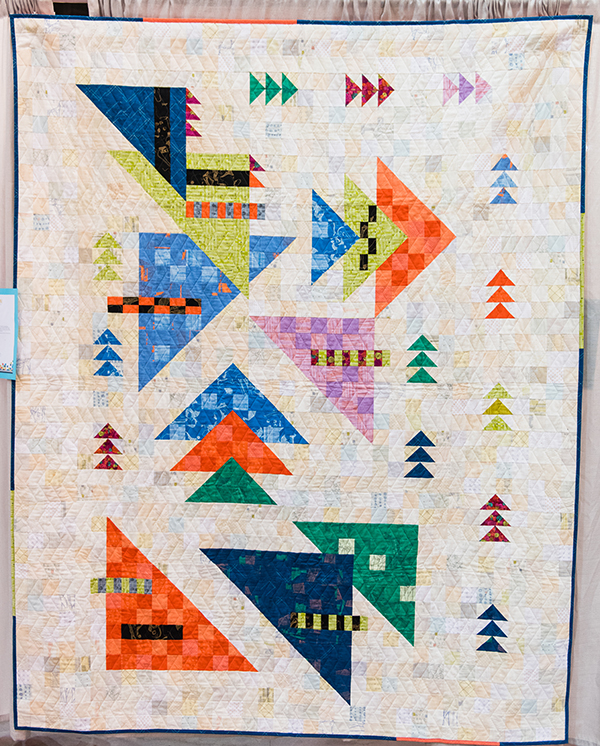 Use at least two of the colors in this fun citrus-inspired palette and let your imaginations run wild!  We've included coordinating solids from some of our sponsors to get you started. Feel free to add prints and other solids, as long as they match the color palette. 
Moda Bella Solids
White
Boysenberry (9900-217)
Geranium (9900-258)
Amelia Orange (9900-161)
Yellow (9900-24)
Fig Tree Olive (9900-69)
Want to design your Community Outreach quilt in EQ8? Download the challenge fabric swatches, along with some complementary fabric ideas, using the special link here: Challenge Fabrics in EQ8.
Details in Summary
Design the Quilt
Use at least two, or up to all six, of the colors in the palette to create your quilt.

Feature those angles! Make sure the theme is the focus of your piecing

Quilts must be twin size, which is approximately 65" x 85".

If your guild or team decides to use a pattern, be sure to get permission from the pattern designer and include that information when you submit the quilt to QuiltCon!
Work Together
This is not a solo project. Community is in the name for a reason. Include as many people as you can from your guild or individual members team to complete each step.

Your guild or individual members team will provide batting, backing, binding and additional fabric to complete the quilt top.
Photograph & Enter Your Quilt
This year guilds and teams will enter their challenge quilts using the same entry system as regular QuiltCon submissions! Please enter your group's name as the first line in your Quilt Description. The entry timeframe is between September-October. Community Outreach quilts must be submitted by the deadline of October 31 in order for us to reserve space for them at QuiltCon. You may enter your Community Outreach quilt with any image, even if it isn't finished. The quilt top, or even a stack of blocks or the fabrics you're using is ok! Click the link below to update your entry with photographs of the completed quilt by December 18th (for Community Outreach quilts only).

The entry fee is waived for Community Outreach Quilts. The system will automatically remove the $15 fee from your cart when checking out.

There is no set pricing for the quilts, should you choose to list it for sale to benefit the selected non-profit organizations, each guild will set their own price. While every quilt is different, we recommend starting in the $250 – $350 range and increasing your price from there. Remember, this quilt has cost your guild time and money, and that should be factored into the amount that will be donated to the charities at QuiltCon. We see quilts listed anywhere from $200 – $5,000 at QuiltCon in any given year, so it's wide open.