QuiltCon 2024 Community Outreach Challenge
The Community Outreach Challenge is back for 2024 with a calming palette and the eye-pleasing concept of symmetry. Like last year, guilds will have the opportunity to sell their quilts at QuiltCon, and the proceeds will benefit local non-profits. We raised $7,225 last year with this challenge – can we beat that this year? 
In 2024 the MQG is partnering with the African American Quilt Circle of Durham to support three local non-profit organizations.
Equity Before Birth is a 501(c)3 designated public charity. This organization is located in Durham and focuses on improving Black maternal health outcomes by providing supplemental income, doula service coverage and sponsorship to families for services and support. EBB supports adults and 12-15 teenagers annually in the birthing process.
Hayti Heritage Center located in Durham has been a 501(c)3 since 1975. The Hayti is a cultural enrichment and arts education facility that promotes cultural understanding through diverse events, activities and programs that preserve the heritage and embrace the experiences of Americans of African descent. 
RHODA Generation Mentoring Program was launched in 2018 in Durham, NC. RHODA stands for Raising Humble Obedient Daring Adolescents. They are a mentoring program for young women ages 12-18 and hold 501(c)3 nonprofit status.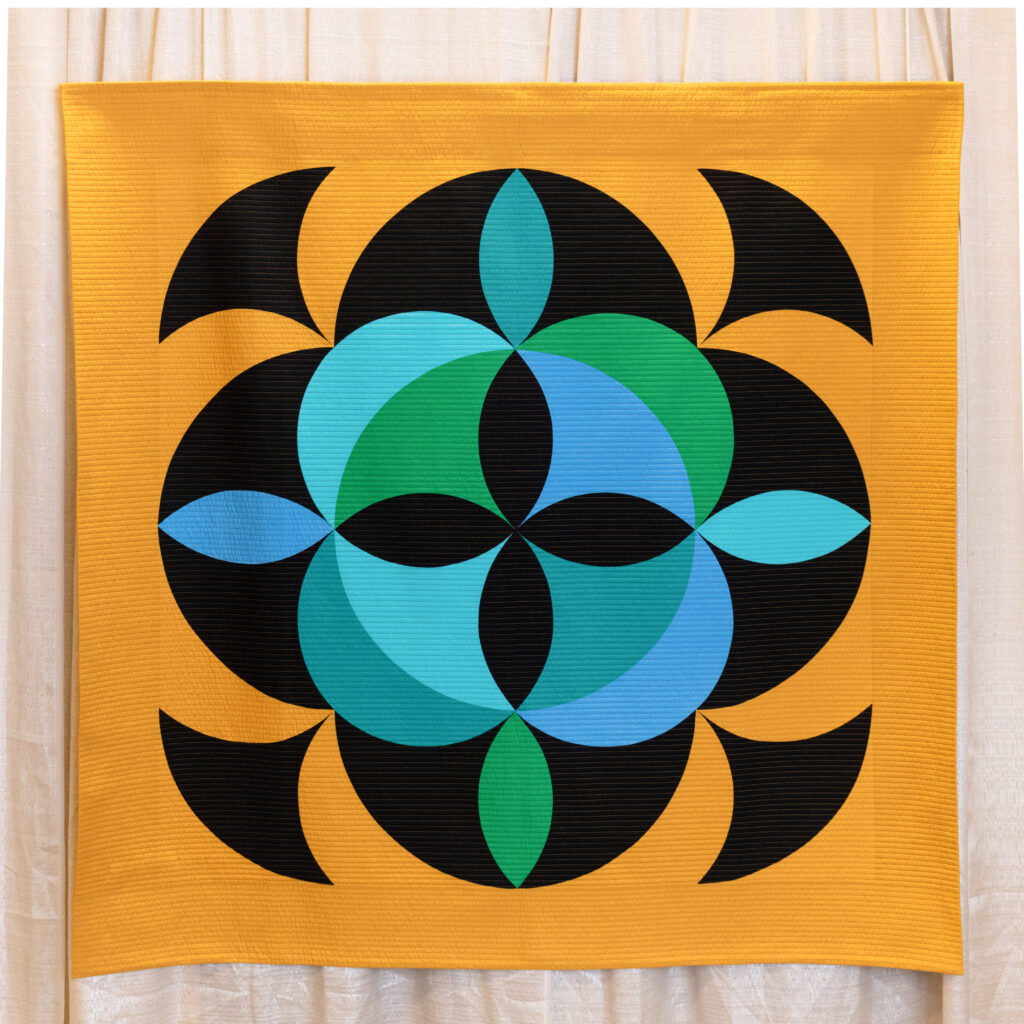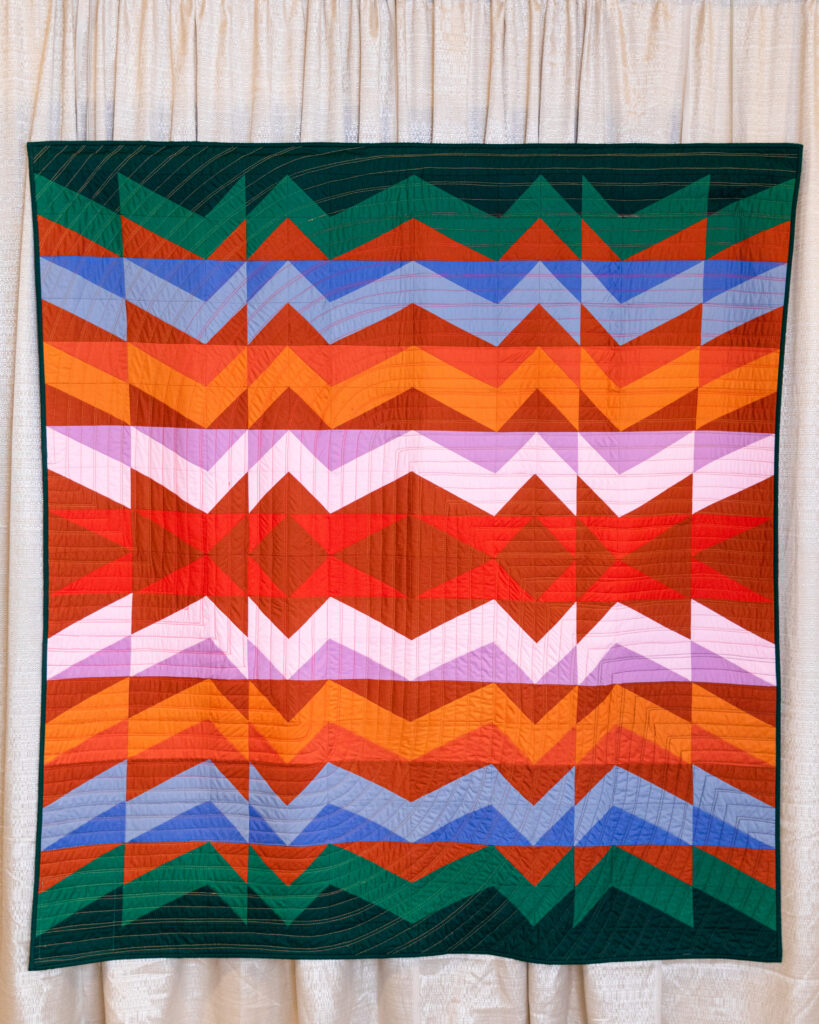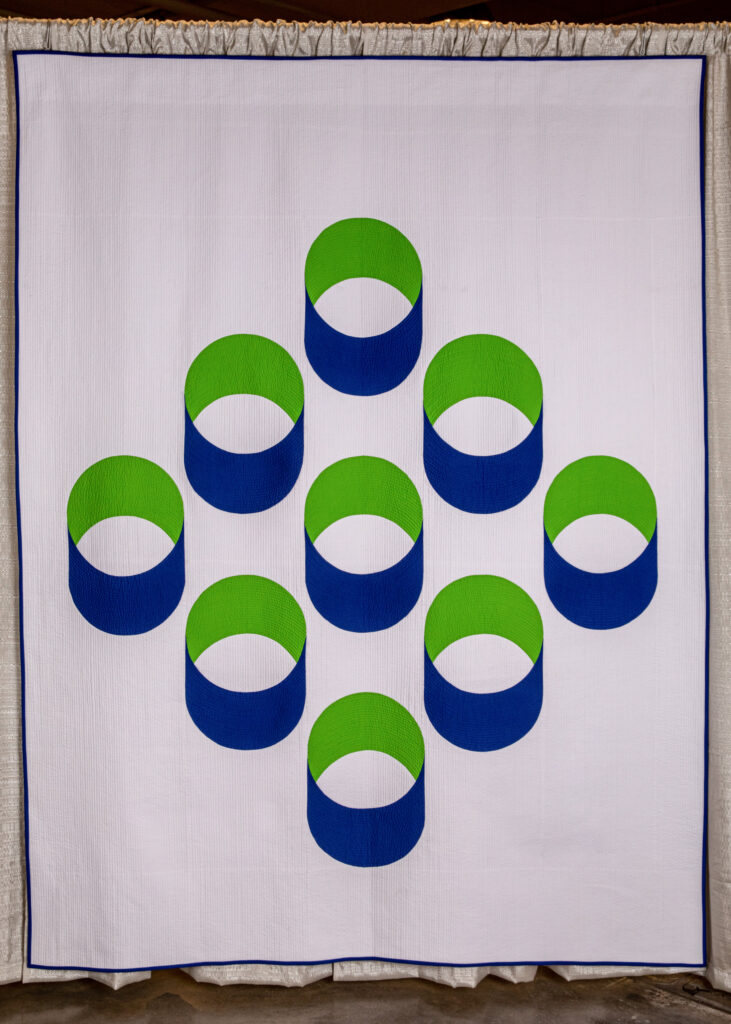 This year's color palette is shown below with its corresponding code for Moda Bella Solids fabrics. Be sure to use a total of at least four colors on your quilt. You do not have to use all of the colors shown, nor are you required to use Moda Bella solids for this project. Get creative with your use of solids and prints. Make it scrappy, or reuse bits from older projects. We can't wait to see what you come up with.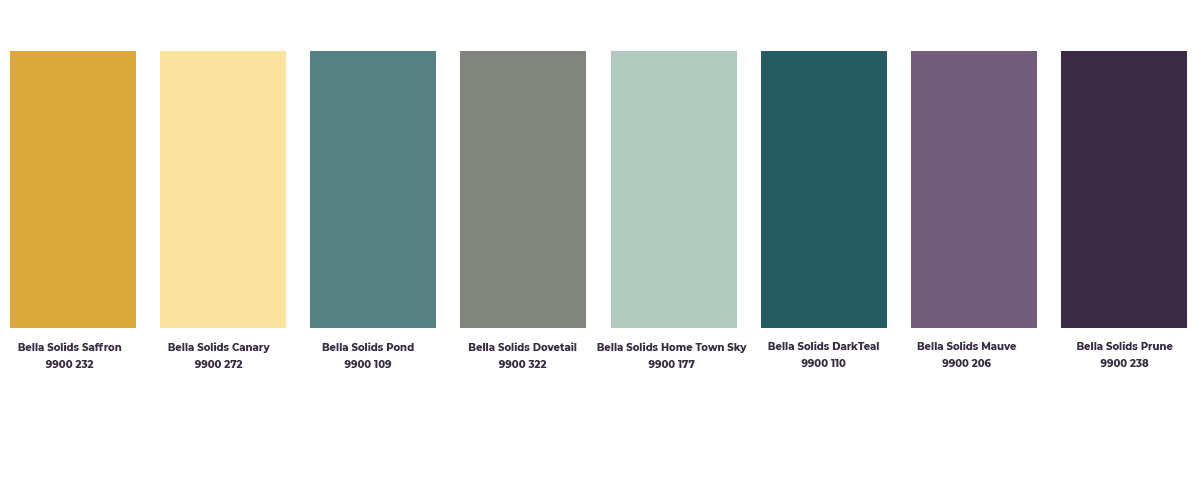 Challenge Summary & Rules
Make the Quilt
Use 4-8 colors from the color palette to create your quilt. Solids or prints (or both!) are fine to use. No other colors may be used in the quilt top or binding. The quilt backing is your fabric of choice.
Please do not add neutrals, stick to the palette provided!
Make sure the theme of SYMMETRY is the focus of your project.

Size constraints of a maximum of 65"x85" and a minimum of 60"x80" must be adhered to. Quilts outside of these size guidelines will not be accepted. If the size is misrepresented on the entry form the quilt will not be hung at QuiltCon.

If your guild or team decides to use a pattern, be sure to get permission from the pattern designer and include that information when you submit the quilt to QuiltCon.
Work Together
This is not a solo project. Community is in the name for a reason. Include as many people as you can from your active MQG guild or create a team of individual MQG members.

Groups eligible to enter a quilt in the Community Outreach Challenge are MQG local guilds, or teams made of Individual MQG members. The MQG cannot accommodate teams of people with various memberships in local MQGs. Quilts made by those groups should be entered in the Group or Bee category of the judged show, and are not subject to the challenge limitations of the Community Outreach Challenge.

Your active MQG guild or MQG member team will provide all the materials to complete the quilt.
Photograph & Enter Your Quilt
Due to space and personpower limitations, the Community Outreach Challenge will be capped at 80 quilts. Although the quilt does not need to be complete, a photo will be required to submit the entry. The entry system will be open October 15 to December 15, 2023, or until 80 submissions are reached, whichever comes first.
If your quilt will be for sale at QuiltCon, you will need to submit a high-quality image of the finished quilt. The photo may be updated with a finished quilt photo by January 15, 2024. If your quilt will not be for sale at QuiltCon, but only for exhibit, a photo of the completed top will suffice.

To subsidize the increasing shipping costs, there will be a $25 entry fee for each Community Outreach quilt. If the quilt sells at QuiltCon and does not return to the submitter, the entry fee will be refunded by the end of March.

There is no prize in the Community Outreach Challenge.
There is no set pricing for the quilts, should you choose to list it for sale to benefit the selected non-profit organizations, each guild will set its own price. While every quilt is different, we recommend starting in the $250 – $350 range and increasing your price from there. Remember, this quilt has cost your guild time and money, and that should be factored into the amount that will be donated to the charities at QuiltCon. We see quilts listed anywhere from $200 – $5,000 at QuiltCon in any given year, so it's wide open.
The MQG staff appreciates your understanding of these updated guidelines so the Community Outreach Challenge can continue to be a special part of QuiltCon!